For years, Japan has been on my bucket list. And finally, this year it was time to check it off. We're incredibly lucky in Canada to be exposed to great international cuisine right in our own backyard, but nothing beats the real deal!  So, here are my 5 'must-dos', thanks to my recent foodie adventures in Japan's Golden Triangle…
1. Must say yes to fish dishes
Fish is Japanese food culture. Whether it's raw, cooked, on rice, with noodles, in broth, skewered—you get the picture—it's something you can't get away from eating in Japan. Honestly, I'm not a fan of eating fish; many of my friends even teased me that I was going to starve, when they heard we were travelling to Japan. But I rose to the challenge and ate fish (lots of it, for me!) and I'm glad for it. When in Rome Japan, right?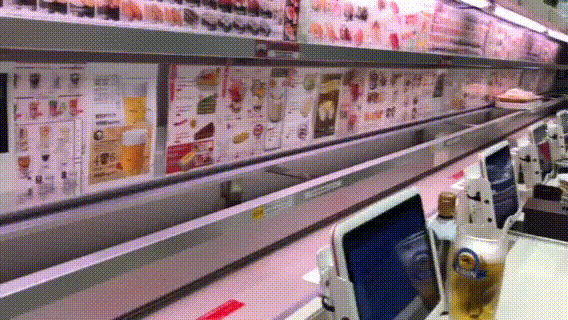 I had the best sushi of my life on this trip! Every sushi restaurant we went to, including the conveyor belt ones, had incredibly fresh fish. It seemed to be a given, regardless of the restaurant 'class'. The variety, the textures, the flavours—some expectantly bold, while others, like succulent slices of white tuna, were surprisingly delicate, yet decadent. Also not being a fish aficionado, I must admit I wasn't aware there were even different types of tuna—which clearly have distinct flavours unto themselves! So, if you're like me, I recommend you take the plunge and go outside your fish-eating comfort zone; I think you'll be pleasantly surprised.
Scared to order from the menu? At first I was too, but then I read 7 tips to help you overcome language barriers.
2. Must love ramen
Think all ramens are created equally? Not in Japan, they aren't! Kyoto had two of our favourite ramen experiences. At Ramen Miyako Gion, there were so many ramen options, it was hard to choose. Each bowl was different, with a broth and noodle to match the protein chosen. It was so delicious; we actually went two separate times to have it!
Our second favourite was at Shinpuku Saikan, near the Kyoto train station; they offer what I'd call a 'quick 'n dirty, eat 'n go'. The broth was dark, oily and very pork-forward. It was clear from the menu that they mastered pork flavours and weren't focused on offering a variety. While we won't remember the restaurant for its ambiance, we'll remember its broth! By the way, there's often a queue for Shinpuku Saikan, so be prepared to wait a bit or go outside of peak eating hours.
3. Must try traditional yakitori
One of the neighbourhoods we enjoyed exploring most was Tokyo's Kichjoji area. Our Culinary Backstreets food tour guide, Kelly, took us out of the tourist traps to experience the local fare. It's here that we experienced an old school yakitori shop.
What makes it old school? Well, we didn't just get plump chicken breast on a stick. Traditional yakitori consists of skewers of various parts of the whole chicken—thighs, hearts, kidneys, livers, gizzards, skin and even cartilage. One of my favourites were the meatballs; while I have no idea what part of the chicken was used, they were rich and flavourful!
Yakitori is engrained in Japan's food history, starting as a quick bite for commoners; today, you can find it on street carts, casual izakaya (small Japanese pubs), and even high-end establishments. I recommend trying it in Kichijoji's market, Harmonica Yokocho.
Note: I wasn't paid to promote Culinary Backstreets. I've now had two awesome experiences taking their tours and highly recommend them for those foodies looking for a deep dive into a city's food history.
4. Must dine in deep-fried heaven
While I consider myself a healthy eater, I can't say no to deep fried deliciousness. And there is no shortage of deep-fried foods in Japan. There was the usual tempura battered vegetables and seafood on many menus; pork katsu (pork cutlet) is also another popular option. But two dishes we tried in Osaka really stood out.
The first one is okonomiyaki–a savoury pancake, layered with meat, some veggies, sauce, with the option of adding noodles in it too, topped with bonito fish flakes. If you're trying it with another dish, I'd recommend splitting it between 2 to 3 people. It's large, heavy and filling!
The second dish is takoyaki—battered octopus balls, topped with bonito flakes, for the optimal foodie experience. Go hungry or plan to share because they're usually served in sets of 9 or 12, because of the iron they're made in.
5. Must savour matcha tea
For the Japanese, matcha isn't just for drinking. Parfaits, ice creams, cream puffs, matcha-infused buns, candies—if you crave it, they can make it. This is evident, particularly in Kyoto, where many tourists flock simply for the sweets.
Fun fact, did you know that you can get a crazy variety of Kit-Kat flavours in Japan? Not only are there a couple of matcha varieties (yes, there's more than one!), there are many other interesting flavours including raspberry, peach, and peach mint.
Thanks for joining me on this walk down foodie memory-lane, through Tokyo, Kyoto and Osaka. If you're considering a trip to Japan, all three cities are must-visits. Looking for itinerary planning ideas? Shoot me a comment below!
Savoury travels,
Melissa
Related Posts / Articles apparentés
Jul 2 2019